Coarse Ash Transporting System
Pneumatic Conveying System
Pneumatic pressure conveying system to dispose of bed ash in dry form from AFBC/CFBC Boilers and Coarse ash from pulverized coal fired boilers is offered by Melco. In this system ash collected in the boiler bed/economizer hopper ash is extracted and conveyed to bed ash/BA silo by means of pressure conveying system. High temperature bed ash from the boiler bed is discharged to the water cooled surge hopper and discharged into ash vessel through pneumatically operated specially designed ash intake valves. Conveying air compressors/Blowers are provided to supply compressed air required for conveying bed ash/Eco ash to silo. Similarly coarse ash collected in APH & Duct hoppers of conventional pulverized coal fired boilers can be conveyed pneumatically.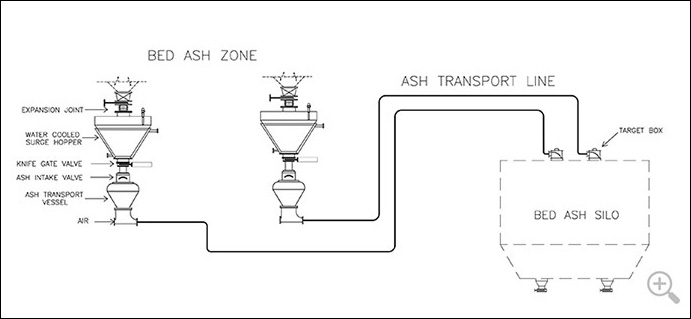 Wet Coarse Ash Handling System
Continuous hydro sluicing system provided for disposal of coarse ash in wet slurry form. The fly ash collected in the Economizer, Air Pre Heater hoppers is continuously extracted and mixed with water in Flushing apparatus/Feeder Ejector provided below each fly ash hoppers (as per the system requirement) where fly ash mixed with water and form slurry for onward disposal of slurry through slurry pumps.