Ash Handling System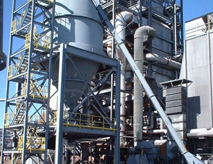 Our world-class infrastructure, state-of-the-art machinery and sound systems and processes enable us to produce batch after batch of high-quality products and maintain consistent standards of service that our customers rely upon. To ensure that we maintain the quality to cater to a wide spectrum of requirements, we have a foundry, a Machine Shop, Fabrication Shope, a Heat Treatment Shop and a modern Laboratory with Testing facilities.
Melco accomplished the leading position by anticipating customer requirements and recommending the most suitable type of ash handling system to them. An important consideration whilst selecting the system is the type of ash to be conveyed. This is because ash types have different compositions due to a combination of differing combustion methods, fuels used, boiler designs and flue gas treatments. Other factors that help in the decision making are the boiler size, availability of the ash disposal area, pollution control needs and the need for fly ash utilization.
Fuel types, solids or liquids that are used in the production Thermal Power Plants or industrial combustion processes give rise to ash types that are different from each other. The main categories of ash are bottom ash, fly ash, mill reject ash. Bottom ash, which accumulate at the bottom of the boiler in the form of lumps, requires mechanical, pneumatic conveying or hydraulic handling systems. Fly ash, which is more volatile, gets deposited at the bottom of the ash hoppers in the equipment downstream of the boiler. Such electrostatic precipitators, stack hoppers, air pre heater, duct hoppers, and economizer pneumatic conveying system or hydraulic systems are used for the removal of this ash.
Mill reject, which is found in the Indian coal to quite an extent is comparatively difficult to convey pneumatically and hence require special care to design to perform efficiently.
Melco, with its sound experience in the domain, is able to offer not just a range of wet and dry handling systems, but also systems designed with the capacity to handle materials like sponge iron dust, kiln dust, silica, cement, alumina, zinc oxide, quartz, limestone, iron oxide, etc. As a result, various kinds of particle size, particle density, and particle shape and size distribution are duly considered and addressed.
The various kinds of Ash Handling Systems offered by Melco are:
Bottom Ash Handling system involving Scrapper Chain Conveyor water impounded BA Hopper with jet pumping
Coarse Ash
Fly Ash Transportation, storage and disposal system
Lean Ash Slurry disposal system
High Concentration Slurry Disposal (HCSD) System
Water recirculation system from Ash Dyke or through Dewatering bins
Coal Mill Reject Conveying Systems (Pneumatic / Hydraulic / Mechanical Systems)